Waterfront Mews Islington N1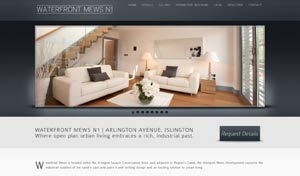 These attractive canal-side mews style houses situated in the Arlington Square conservation area, were developed by Cityshape and designed by multi-award winning architects Pollard Thomas Edwards.
Cityshape approached us with a brief to provide them with the following: Website, brochures, posters for agents, hoardings for the site, email template PSDs and an interactive brochure. They also needed a CGI photo-realistic impression of the finished building on the waterfront and photography of the show home.
Due to unforeseen circumstances beyond their control, they had a very tight window of time left to organize all these elements and so approached us for help.
Within two days we were on site, arranging a good day for the principle photoshoot. Our photographer took some photos of as many finished parts of the properties as he could, though at this time the show home was far from ready.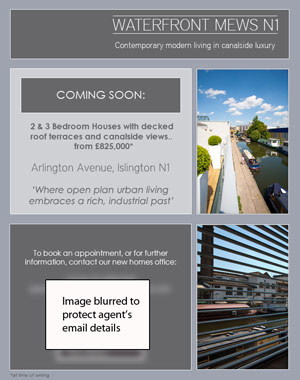 Firstly the agents needed templates for their email advertising campaign, so with the photos we had already taken we supplied the first templates.
We would normally add more images to these templates, but as we'd had so little time, this just wasn't possible.
Templates were supplied as Photoshop Documents (PSDs) so the company that sends out the bulk email to the list of potential clients can add layers with appropriate links and size them to their desired format.
Meanwhile, their construction team and the room dresser swung into action and within a few days we were under way with the principle photoshoot. As soon as the photos had be retouched digitally back in our offices, we made them available to the agents so they could pass them on to various websites with whom they advertise.
This gallery (now on the Waterfront Mews website) gives an idea of some of the images we supplied. Please click on the picture below to access it. You can then click on individual images to enlarge them.

As soon as we had something to work with, we started on the next most important elements: the posters for the agent's office. In this instance a set of three large posters showing a map, a site plan and unit floor plans was needed.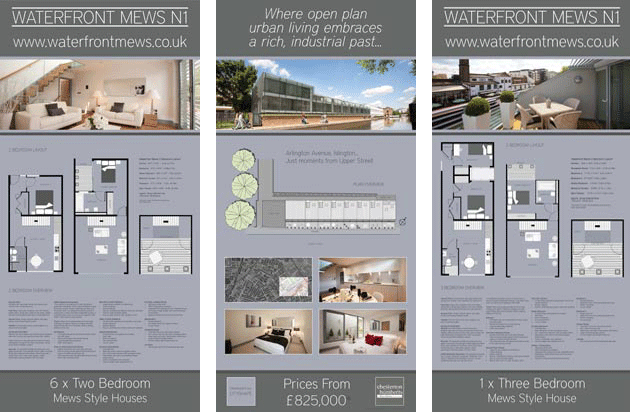 Our graphic designers worked from the architect's  original plans to provide some 2D drawings of the properties on offer, plus combined this with a graphic for the map and some photography, plus copy for the descriptions of the properties.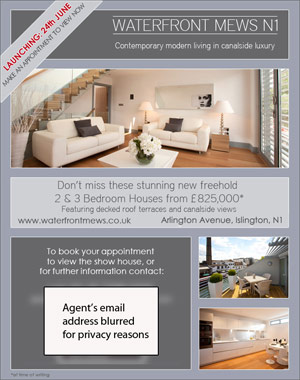 Next we started on the website,  brochures and interactive brochures. Alongside these we worked with the agents to provide them with all they needed in terms of finished photographs and more email templates to send follow-up invitations to potential buyers.
Our normal approach is to put an idea or two in front of the agent and the developer and once the developer is happy with the principle, we then throw a few ideas about with the agents, trying different variations in layout and text until they are happy
We find this works well as the agents are familiar with their clients, depending on the demographic. It makes perfect sense to utilize their experience rather than steam-rolling through an idea that we like. This then goes back to the developer for a final OK.
As the brochures neared completion, we started on some graphics for hoardings that would be used to advertise the development on site. The construction firm erected them ,but we do offer this as a service if necessary.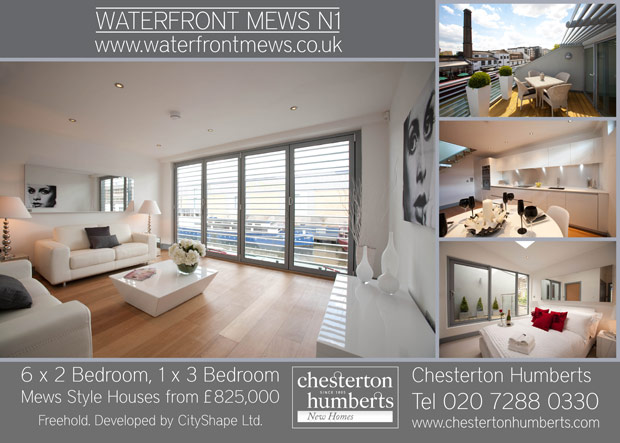 Finally with brochures completed we designed the online brochure. This brochure allows potential buyers to view a virtual brochure online via the website, download it as a PDF or just print it on their own printer. Click on the picture below to see it in action:
We completed the entire brief within four weeks.
It is best to have a very free open line of communication between those involved in the project as this gets things moving quickly.
We know just how important it is for developers and agents to have the necessary marketing materials available to use when they need them and we make every effort to ensure this happens.